Help Page
We are excited to announce the newest addition to our South East Coastal Underwriters family, our website!
We hope you will find the website useful to find coverage and product information, request a quote, report a claim, and more!
Please feel free to submit business in a way that is best for you and your staff. Our website was created as a user friendly tool to assist as needed. Thank you for supporting SECU!
To Login to your Agent Dashboard:
Visit our Home Page and find the "Agent Login" form (pictured below).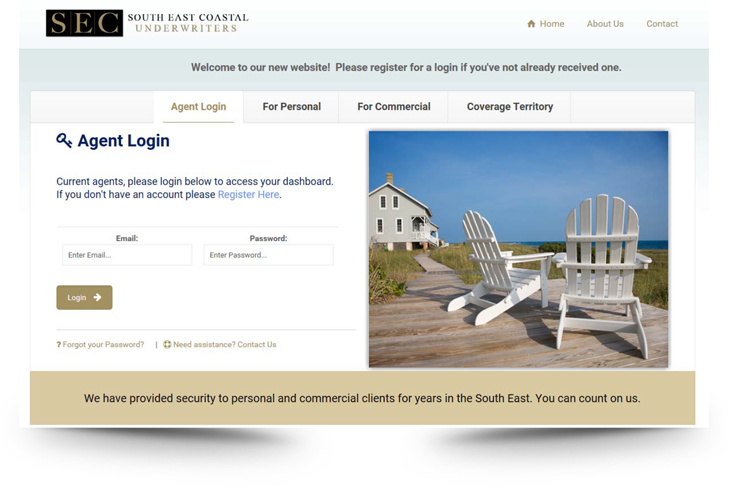 ---
How to Register
If you have not received a log in user name (your email) and password, then you'll need to register to get full access to the site.
Click the Register Here link and complete the fields to submit your registration.
We will receive a message that your request was submitted and will approve your request, normally in less than 24 hours and send you the confirmation with password.

Don't worry, you won't be asked to update your password constantly!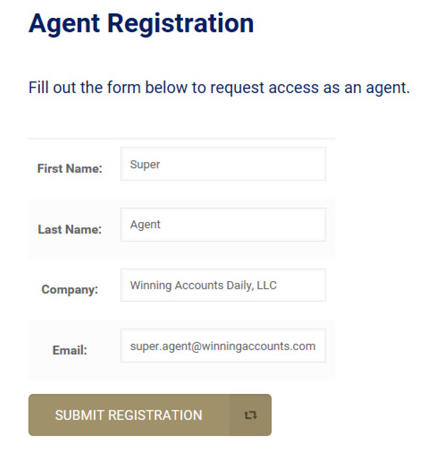 Navigation
Once you receive confirmation of your account and password you may log in and utilize all of the website's features. All information is provided in downloadable pdf format for ease of completing and/or printing.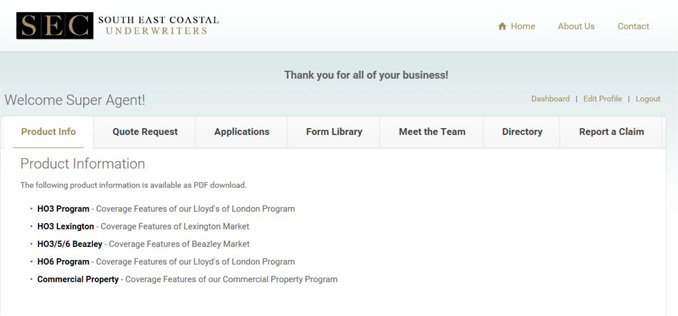 Product Info:
This tab will provide you up to date information on the various markets and lines of business we are currently offering.
Quote Request:
On this tab you can gain access to a fillable form that can be submitted to our New Business Team for a quote. Please see the section on How to Request a Quote for more detail.
Applications:
Quickly find an application, or supplemental application to download.
Form Library:
Find specimen policies, policy enhancements, or endorsements to review prior to policy issuance.
Meet the Team:
Read our team's bios, and see a picture of them!
Directory:
Contact information for our team.
Report a Claim:
A standard Acord property loss form with the ability to submit directly to our claim department.
How to Request A Quote
If you would like to request a quote online to be submitted directly to our New Business Team you may do so through our website

- Log into the website using your approved email and password and click the Quote Request tab.
- Choose the line of business you are interested in submitting.
- The below message will appear. Click Open

- The chosen form will pop up. Complete the fields and required. The fields do not "require" a response, so they may be left blank if they do not apply. If preferred, the tab button will quickly navigate through the form.
- Upon completing, to submit click the SEC logo found on the form.

- The first time a pop up window will appear to ask the time of email application you use. Select the correct option and click the check box to "Remember my choice" and then click continue.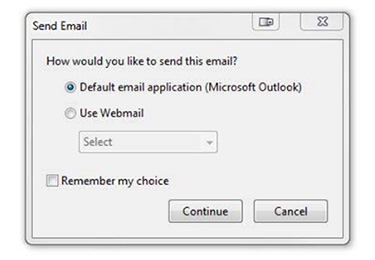 - An email message with the completed form as an attachment will open addressed to the appropriate department.
- Add any additional documentation you'd like our underwriter to see or type any instructions.
- Click send and our team will begin working on your submission! Thank you for your business!